Roth Conversions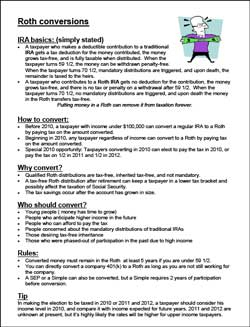 Includes answers to the following frequently asked tax questions.
What is a Roth IRA?

Is a Roth IRA better than a traditional IRA?

How does a Roth conversion work?

Who can do a Roth conversion?

When is it a good time to convert?

Why should I do a Roth conversion?

Who should do a conversion?

Are there any special rules I need to know?
Want printed copies? Let us do your printing for you. Call 612-722-3552 for a quote. Active subscribers get 20% off of our competitive rates. Imprints and custom orders are available too. (note: To simplify the design of eTaxSuite.com we are no longer taking product orders via the website)